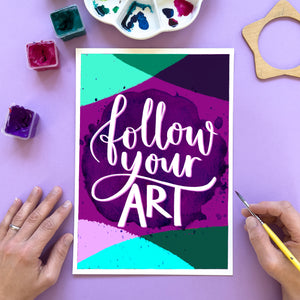 Recently I was invited to an Arts Inspiration Day at a secondary school to talk about being an artist. It was really interesting thinking about the pros and cons of owning a creative business, so I thought I'd share a bit on here…  The first thing I did when preparing for the careers talk was to make a list of all the things I do in my business. This was quite an eye-opener because I'd never really realised how many hats I wear – and also what a tiny part of the business the art bit actually is. I'd love...
---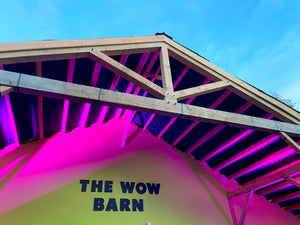 This month a really cool thing happened in Leeds: 300 women and non-binary people gathered together to build a barn in just 24 hours, supported by The WOW (Women of the World) Foundation and Leeds 2023 City of Culture. I was there for the duration to document the action, tell stories about the ace women taking part and tackle important questions such as: would it be done in time? Would it ever stop raining? Was there enough Yorkshire Tea in the world to support this long endeavour?! (Spoilers: yes, yes and YES!)    The WOW Foundation was set up by Jude Kelly in 2009 to celebrate the achievements...
---
Around the time my daughter was one year old, I started learning calligraphy - drawing and painting quotes that I liked. I found myself most drawn to phrases that I could pin up in my daughter's room that would surround her with positive messages and can-do statements. I wanted to fill my daughter's world with positivity because of how differently people (without necessarily meaning to) treated my kids. My son got: "what a strong boy you are! Here, catch this ball." My daughter got: "what a pretty little girl you are! Do you like dolls?" Shopping for girls' clothes meant...
---
How learning the art of calligraphy helped me relax, unwind and discover mindfulness during a difficult period of my life. 
---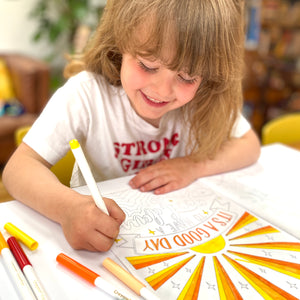 Someone asked me the other day what my favourite thing was that I'd created. (This was hard because I'm rarely 100% happy with anything I make and will pick holes in my work until the cows come home.) After some thought, I realised that my favourite creation isn't a card or print - and not even really to do with art at all. It's a colouring book I made in 2019 to help improve children's mental health. It came about after I realised that my son and I had our best chats when we were colouring in stuff together –...